Ahead of a fresh brand positioning campaign this month, Noodles & Company increased sales by engaging customers with a mobile-based approach that supported the restaurant chain's aim for boosting loyalty. By gamifying the consumer experience on its app with rewards points, limited-time offers and quick polls, the company also saw a stronger return on its marketing efforts, according to a case study provided to Marketing Dive by content personalization platform Movable Ink.
"There is a clear connection with the rewards strategy and our app development strategy as we see over 90% of app users enrolling in rewards today — with well over half of member purchases coming through our app," Andrew Hagen, vice president of marketing at Noodles, said by email.
The fast casual chain, which has more than 450 locations throughout the U.S., worked with Movable Ink to develop mobile campaigns to boost order frequency and engage members of the Noodle Rewards loyalty program. Its app has been central to delivering those brand experiences, giving customers an easy way to track rewards points, see their accumulated savings and streamline food ordering.
The marketing efforts come as restaurants, including fast casual chains like Noodles, face lasting challenges from the pandemic. Food cost hikes, labor shortages and supply chain delays are squeezing restaurant operators, making business outcomes an even bigger priority in evaluating the effectiveness of marketing campaigns.
Noodles saw a ninefold gain in its click-through rate while generating $71 for every 100 emails it sent to customers with a promotion for Noodles Rewards, per Movable Ink. One campaign included a poll that asked loyalty members to select their favorite offer among a choice of free delivery, 50% off a regular entree, 15% off an entire order or $4 off an order of $15 or more. The poll allowed consumers to view updated voting results and see how others interacted with Noodles.
These gamified features helped to capture more first-party data about Noodles' most loyal customers, an increasingly useful method to help understand individualized preferences and shape future promotions.
"We leverage an integrated planning approach to assure our marketing efforts drive seamless experiences that deliver on conversion objectives," Hagen said.
Digital sales drive growth
Mobile interactions with consumers are especially important to Noodles, with digital sales making up about 58% of total revenue during the first quarter of this year. During that period, system-wide comparable restaurant sales rose 6.4%, including 5.3% gain at company-owned restaurants and a 12% increase at franchise restaurants. Total revenue grew 2.7% to $112.6 million, according to its latest earnings report.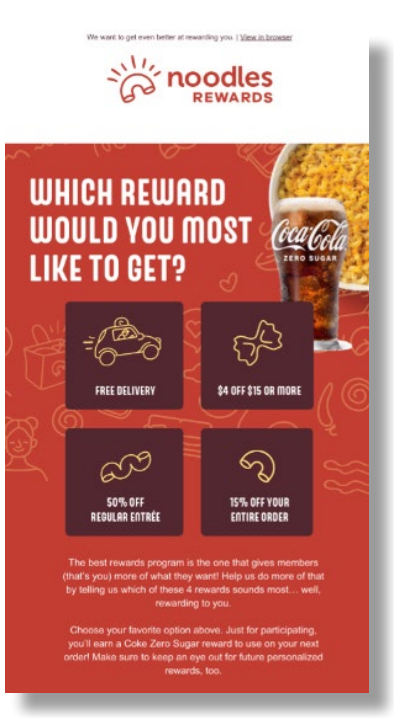 As part of its mobile marketing efforts, Noodles relies on a variety of metrics to elevate campaign effectiveness. App downloads, monthly active users (MAUs) and efficiency of conversions throughout the purchase funnel are key indicators of mobile engagement.
"On average, we see that our app converts members at a rate significantly higher than our mobile web or web experience, and we are constantly evaluating ways to optimize," Hagen said. "Beyond some of the traditional install and engagement metrics, we are also actively managing to metrics around member preferences within the app."
Test-and-learn strategies
Before introducing new offers, Noodles runs test campaigns to gauge consumer response through mobile channels that provide a direct connection to high-value customers.
"Whether it's testing new offer formats such as the 'choose your own reward' customizations or introducing new member challenges, we look at ways to test at a market and guest level to identify anticipated lift associated with both digital and rewards program optimizations," Hagen said.
Mobile promotions like these can drive sales and boost long-term loyalty, while creative campaigns help Noodles to nurture broader brand awareness. The chain this month launched a new brand positioning campaign. "Uncommon Goodness" highlights new culinary innovations and exclusive benefits for rewards members and marks a continuation of the chain's digital web and app experience, among other elements.
"Our ongoing guest engagement and personalization efforts through our app will play a significant role in how 'Uncommon Goodness' comes to life and connects our guests more personally with the brand," Hagen said.
Amplifying app awareness
Noodles takes an omnichannel approach to promoting its app and rewards program, segmenting users based on behaviors and preferences, per Movable Ink. Its targeted messaging highlights benefits of loyalty membership and app features that help to remove friction with ordering, such as an integration with Apple Pay and recall of order preferences.
"For loyalty and app, in particular, we see strongest success through paid media channels such as social, display and CTV [connected television]," Hagen said. "To date, retargeting existing audiences through social has proven to be an extremely effective channel in driving member activation and downloads."
The chain's mobile strategy is especially important in engaging younger, tech-savvy consumers, including millennial families and segments of Gen Z with more disposable income. Digital channels helped the chain to cope with some major disruptions of the pandemic, when many restaurants were forced to close or limit the capacity of dining rooms.
"Audience demographics define our go-to-market and e-commerce strategy," Hagen said. "This has proven to be a beneficial approach when investing to lay a foundation for digital early on, creating a competitive advantage when the industry saw a significant shift in customer preferences and expectations with the onset of COVID in 2020."