For any marketer who hasn't gotten the mobile-first memo, the recently released 2016 Internet Trend report from Mary Meeker, a Kleiner Perkins Caufield & Byers (KPCB) partner, served as a definite wake up call. The report covered the shift to a video-heavy and data-rich marketing world, but it really hammered home the idea that indeed we are living a mobile-first world.
And when industry insiders speaking on a variety of marketing topics ranging from email to search to data begin discussions, they point out that the audience is most likely going to be found on mobile devices. The shift is so decided that at companies like Facebook and Google, conversations about design and user experience always begin with a focus on the small screen. That, however, hasn't quite translated over across the greater ad industry.
The $22 billion mobile advertising gap
For marketers the most important data point in Meeker's 2016 report is U.S. online advertising is growing, with mobile growing faster than desktop even though it commands a smaller share of the pie. Separately, PwC's latest global media and entertainment report, which sees mobile ad growth outpacing all other channels.
But what stands out within the data set Meeker provides is when looking at percentage of time spent versus percentage of advertising spending almost across the board – online, TV, and radio – those two figures are very close to the same. One outlier is print where significantly more ad dollars are spent than people spend time looking at print media. The other outlier is mobile where the opposite is true – people are spending 25% of their time looking at mobile devices while marketers are only spending 12% of ad dollars on mobile. That 13% gap represents a $22 billion lost opportunity in U.S. advertising.
Marketers should take a hard look at that final data point and ask themselves if they are adequately reaching their own growing mobile audience. If they don't offer an app, doing some research on whether it's worthwhile to develop and release a branded mobile app is probably on order.
Another spot to throw some light onto would be budgets on search and basic advertising spending. Google has reported that it now delivers more mobile search results than for desktops, so any search ad strategy should reflect that reality.
Marketers who are relying on banner and basic desktop display ads would probably be well served to look into adding video ads and other formats that have become very popular and successful on mobile devices to the mix.
The bottom line is the audience has clearly moved to mobile devices and marketers' advertising budgets should reflect that shift. Of course that doesn't mean all advertising dollars need to be dedicated to mobile, but similar to taking a mobile-first approach to digital creative design, marketers should be taking a mobile-first approach to allocating advertising budgets.
Snapchat as symbol of changing habits
Part of the shift to mobile can be seen in the rise of Snapchat, as Meeker pointed out. Snapchat skews toward Gen Z and millennials and is an exclusively mobile experience for users. It has 150 million daily users, recently passing Twitter's 140 million daily users, and boasts 10 billion daily video views, on par with Facebook; these figures have helped cement Snapchat as a major player in an increasingly crowded social media world.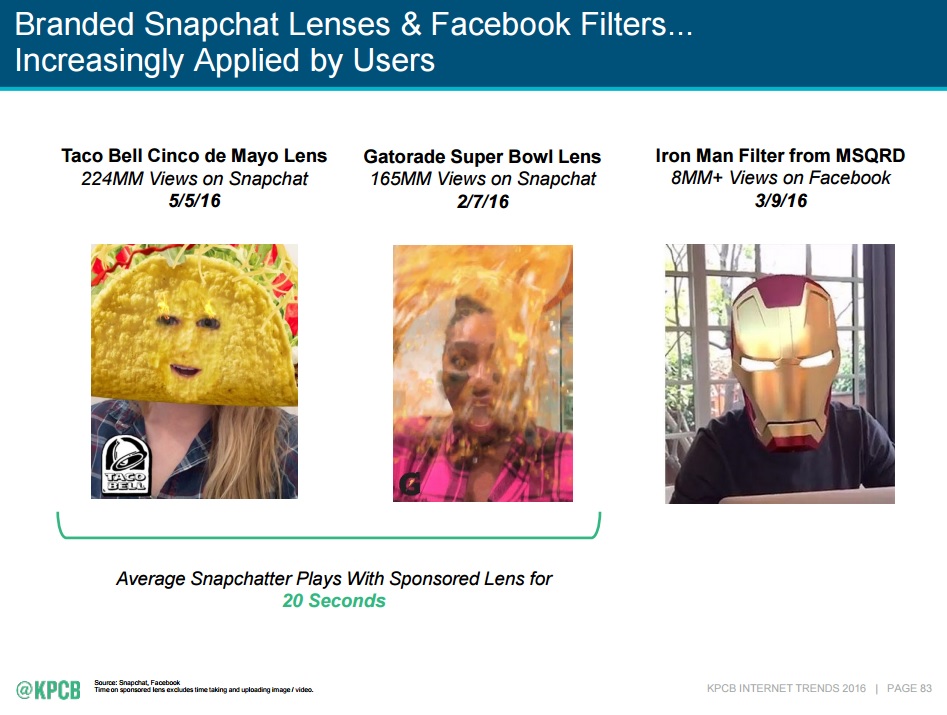 Meeker illustrated how Snapchat has influenced its users through a combination of communication, video and its platform. When Snapchat launched in October 2013, the main content was "stories" created and posted by its users. By June 2014, "live" became prevalent by combining personal and professional curation with between 10 and 20 million users viewing live stories daily. In fact, more Snapchat users watched college football and the MTV Music awards on the app than watched the events on linear TV. The January 2015 advent of the Discover portal and its publisher partners brought straight professional curation to Snapchat, and now 70 million-plus Snapchat users view Discover content monthly with top channels averaging six to seven minutes per user daily.
The report also noted that Snapchat's Sponsored Lens ad unit – which reportedly goes for as much as $750,000 for a one-day campaign – gives brands access to a huge audience, and an audience that likely can't be reliably reached on linear TV, for brand awareness. Gatorade's Super Bowl sponsored lens set the bar at 165 million views in one day, and Taco Bell's recent Cinco de Mayo sponsored lens blew past that figure with 224 million views. Clearly a sponsored lens isn't for every marketer, but it does offer an example of how mobile advertising is capable of reaching audiences that otherwise can't be found on more traditional channels like TV and even desktop display ads at this point.
The report uncovers how marketing is moving toward video, social media and data, but the main takeaway is how all three of those areas are deeply tied to the rise of mobile.