Mobile may very well be the winner of this year's holiday season.
Consumer acceptance of e-commerce in recent years has helped upend the traditional shopping journey, and now mobile's growing presence is taking it even further. Shoppers are spending a lot more time on mobile this year, turning to their smartphones to browse and buy during the holidays.
Here are 4 charts that show how mobile won the holiday season:
1. Mobile commerce is growing fast
For the first time during Black Friday, more consumers shopped via their digital devices than in-store. But within that trend, there lies an even more telling statistic: Mobile makes up almost half of the projected growth in holiday e-commerce sales, according to comScore. 
Mobile traffic and sales on Black Friday -- historically the biggest brick-and-mortar shopping day of the year -- increased 57% and 36%, respectively, according to IBM. Mobile shopping growth during the holiday has grown rapidly in the last few years, from 3.2% of online sales in 2010 to 36.2% this year. Over the whole Black Friday/Cyber Monday holiday stretch, mobile sales grew 25.7% over the same period last year.  
While online and mobile sales still only represent a sliver of overall retail sales, these figures show that mobile is the fastest-growing channel for holiday shopping. 
2. Mobile is eating into brick-and-mortar's share of the shopping pie
With the advent of e-commerce, consumers are shopping when, where, and how they want. More than ever, that's happening on mobile devices.
Although e-commerce makes up only 15% of consumer spending this holiday season, the 4.3% projected growth in spending is almost evenly split between brick-and-mortar and e-commerce, according to comScore and ShopperTrak data. In fact, mobile makes up nearly half of e-commerce's share of that growth, with mobile spending growing 47.2% year-over-year. 
"The growth contribution is approximately half from offline, with a quarter from desktop e-commerce and a quarter from mobile commerce," Andrew Lipsman, comScore vp of marketing and insights, wrote in a blog post. "When looking at it in those terms, it's easy to see how mobile is eating brick-and-mortar."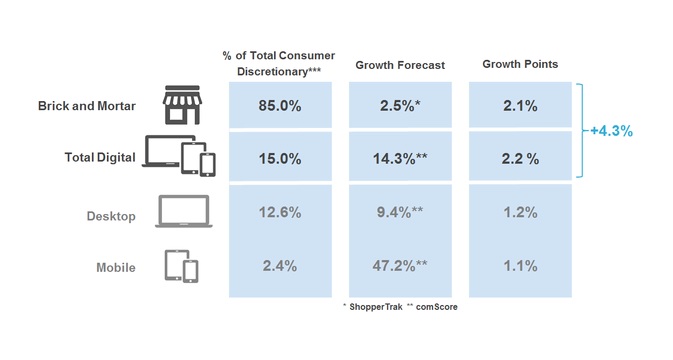 3. Mobile increasingly being used in stores
In Citi Retail Services' 2015 Black Friday Flashback report, 28% of the nearly 900 respondents surveyed said they used a mobile device while shopping in stores during the Black Friday/Cyber Monday stretch this year.
Of these shoppers, more than half scanned their email inboxes for deals, while 34% checked prices or made purchases on the retailer's website or mobile app, and 23% turned to Facebook.
Leslie McNamara, EVP of partner management for Citi Retail Services, told Marketing Dive she expects that this trend "will continue on an upward trajectory."
"Consumers are researching and making purchases via mobile at a pace we haven't seen before. And with the ability to shop for anything, anytime and anywhere, it's easy to see why," McNamara said. "This holiday season, mobile is clearly the star on top of the tree." 
4. Mobile ad spend on Facebook showed greater returns
With the aim of reaching consumers where they spend the most time – on their digital devices – marketers are increasingly implementing social ad strategies.
"Nowhere is this truer than on Facebook," Andrew Waber, market insights and media relations manager for Nanigans, wrote in a post about the automation software firm's Black Friday/Cyber Monday findings.
Facebook is the current largest online display advertising channel in the world, according to Waber, and during the famed shopping holiday, it was a go-to destination for brands and consumers alike. 
Throughout the Thanksgiving shopping weekend, Nanigans' research shows higher purchase rates helped generate stronger returns on Facebook ad investments, especially on mobile – "all despite an uptick in ad prices in the marketplace associated with increased demand for inventory," Waber wrote. 
"From ad types to targeting parameters, Facebook has made it easy for mobile marketers to extend what they already know works for user acquisition and remarketing on Facebook over to Instagram's large and engaged mobile user base," Nanigans VP of Marketing Cheryl Morris told Marketing Dive.
In combination with how many shoppers are making purchases on mobile or online, that consumers even use social media to shop marks yet another ripple in the modern buying journey. 
Looking ahead
The evolving shopping journey and the growth of mobile commerce creates an opportunity for marketers to personalize the experience, especially on mobile, according to Monetate CEO Lucinda Duncalfe. 
The big challenge for mobile next year is closing the gap between mobile traffic and sales. In order to drive purchases on mobile, brands need to develop "omnichannel retail stategies that meet consumer expectations – everywhere they choose to shop," Duncalfe said.
The key to helping consumers move from browsing to buying on mobile, she said, lies in "creating utility and value for the customer whether they're on desktop, mobile or in a physical store."
Citi's McNamara believes that making these adjustments could benefit brands that embrace this shift in consumer spending habits.
"With the majority of Americans owning smartphones, marketers have an incredible opportunity to interact with consumers during their path to purchase and deliver a seamless, omnichannel shopping experience," McNamara said.