AUSTIN, TEXAS — As marketers have seen over the past few years, extended reality (XR) — the combination of augmented reality (AR) and virtual reality (VR) — provides unique opportunities to reach consumers. About a third of AR/VR users have seen ads in the immersive formats, while 64% and 71%, respectively, are more likely to purchase goods because of those ads, according to SuperData and Nielsen data that Accenture Interactive shared with Mobile Marketer.
With this data in mind, Accenture Interactive's presence at the South by Southwest conference this week included a demonstration of some of the various experiences, solutions and applications it's developed with brands to help consumers shop, work and play.
"You're seeing this year, in the XR space overall, a big push in the retail space around products and augmented reality, especially with the use of mobile AR," Rori DuBoff, head of content innovation at Accenture Interactive, told Mobile Marketer at SXSW.
Bringing in the retail experience
Accenture Interactive showcased a handful of these retail applications at the conference: an AR visualizer for DuPont's Corian bathroom counters and a try-before-you-buy AR tool for Kendra Scott earrings. A sunglass solution not currently deployed included an AR try-on, chatbot and Salesforce integration.
"In all these situations, they're connected into commerce and they're bringing the retail experience to you," DuBoff explained. "They're all activations with big brands with which we're using augmented reality as a natural integration into the sales process."
---
"Eventually everything you have will be AR connected."
Rori DuBoff
Head of content innovation, Accenture Interactive
---
Accenture research shows that 75% of AR-using consumers want to use it for shopping, and that two-thirds of those who interact with AR brand filters share those experiences on social media. So even when Accenture Interactive isn't behind an ad campaign, AR still does much of the heavy lifting for brands.
"We're generating brand campaigns for [Kendra Scott] right here, because everyone who goes up and puts the earrings on wants to share it," DuBoff said.
The SXSW showcase also included interactive movie posters for Disney's "Dumbo" that used facial recognition to determine user sentiment and deliver personalized content, along with a VR experience that let people sit inside a Porsche 911 that — while not directly integrated into the sales process — aims to step up the role of traditional advertising.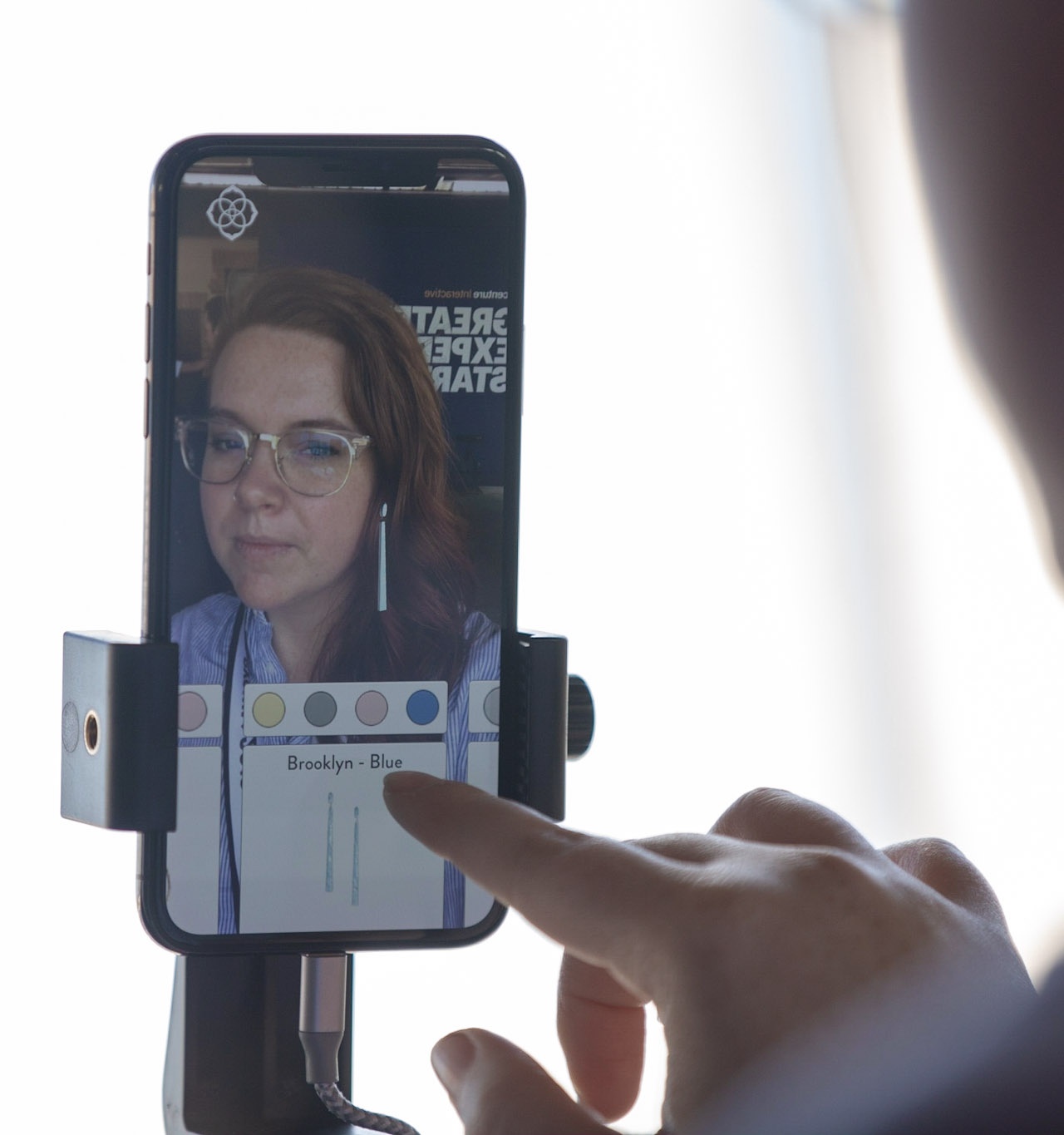 "For automotive, we're just trying to get people to the dealer to buy," DuBoff said. "You could have a commercial in 2D, [but] how much does that push someone to test drive and buy the car? Whereas a VR experience where you're customizing your dream car, you're much closer to getting to that place — [we're] just getting you closer to the point of purchase."
XR has already changed how consumers relate to the world around them, and the brand impact of AR/VR is just beginning. Seventy-five percent of shoppers are likely to use AR, while 79% of gamers will use VR, per Accenture's research.
In the future, consumers won't have to think about using Instagram or Snapchat as an AR platform, as the tech will be a mobile device default, similar to how geolocation works now, according to DuBoff.
"Eventually everything you have will be AR connected," she said. "We went through such a phase when platform was so important… I feel like what's more important now is the experiences, and you figure out the platform later."
"If I was a brand, I'd want to figure out the right type of AR experiences you want to create," DuBoff said. "Are you just focused on selfies and filters, or something localized or connected to commerce? How are you going to use that technology in the smartest way?"
A framework for retailers to recapture consumers
At a SXSW panel, "How Retailers Can Recapture Lost Audiences," Heather Hildebrand, a retail digital strategist for Accenture Interactive, detailed how to use tech like AR to reach consumers through a framework of visualization, dialogue, curation and expert advice.
Visualization entails activations like the Kendra Scott try-on that have proven to drive commerce. As Hildebrand noted, more than 2 million shoppers have used Houzz's "View in My Room" mobile app feature, with those who use it being 11 times more likely to make a purchase than those who don't.
Creating a two-way dialogue between brand and consumer is also essential. Hildebrand pointed to an activation Accenture Interactive created with Carnival Cruises that combined a wearable device, guest room screens and concierge iPads that powered personalized recommendations for travelers onboard.
Accenture Interactive has seen success with curation as well. The firm created a custom catalog for an unnamed European retailer and a saw a 30% lift in sales by solving for curation. It's also tested an experience for Whole Foods that used AR and other mobile app features to create a natural, holistic shopping journey.
Lastly, retailers can win back market share by offering the type of service and expertise that only they can offer. Hildebrand suggested that brands can use AI to teach chatbots sales associate techniques for a more natural customer experience that provides valuable expert advice.
These techniques, along with the XR activations Accenture Interactive showcased at SXSW, demonstrate how retailers can move forward in the digital age and provide more immersive experiences for shoppers to inform their buying journey.
"We believe brands will live and thrive based on the customer engagements that they create," Hildebrand said. "Those experiences not only need to be engaging, but they need to drive a human impact and a business value."