Not often will a product with such a simple purpose resonate so much with consumers and attract such a loyal following. And even less likely is that product to come from a brand that's over 100 years old.
Yet Stanley 1913's Quencher has defied those odds.
The product has grown wildly popular with consumers in recent years with "Stanley Cup" — a water tumbler, not the trophy awarded to the winner of the National Hockey League championship — amassing about 20 million views on TikTok. The Quencher comes in various sizes, but the 40 oz and 30 oz styles are the most popular, priced between $35 and $50. The product boasts features like a handle; the ability to keep drinks hot for five to seven hours and cold for nine to 11 hours; and the fact that it fits inside of most car cup holders.
But the cup, which was introduced in 2016, only recently went viral. In fact, Stanley wasn't prioritizing the product at all up until a few years ago.
So how was a 110-year-old company able to pivot to broaden its customer segment and become one of the most popular drinkware brands today?
It took a group of women who didn't even work at the company — but saw the product's potential — to make the Quencher a hit.
The rise of the Stanley cup
Stanley's Instagram page features its drinkware in a rainbow of colors — from soft pastels to vibrant hues. Some products are even adorned with etched patterns to add to their appeal. The brand's website shows women having coffee, a person doing yoga and two women walking and chatting while holding their Stanley drinkware.
While women are now clearly a key focus for the brand, that hasn't always been the case.
William Stanley invented the steel vacuum-sealed bottle in 1913 and in the century since, "his vacuum bottle evolved from concept to icon and has become an essential part of workdays, road trips and outdoor adventures," the company said. The company historically targeted workmen and those participating in outdoors activities, like camping and hiking, in its marketing. As recently as 2012, Stanley mentioned that its products resonated with "a 30-year-career veteran policeman" and "a retired Army soldier."
How did the brand expand beyond its rugged image to something that appealed to a broader customer, who would incorporate the products into their everyday lifestyles? With the help of three women.
Linley Hutchinson, Ashlee LeSueur and Taylor Cannon — the founders of The Buy Guide, an online shopping blog and Instagram account that started in 2017 — were early lovers of the Stanley Quencher.
The Buy Guide's second post on Instagram, back in November 2017, featured a 40-oz Stanley Quencher. "Of all the insulated cups... this is the one. Just trust," the post read, touting the product's features like its handle, straw, ability to keep beverages cold and the fact that it was dishwasher safe.
Once LeSueur discovered the product, she gifted one to both Hutchinson and Cannon to see if they liked the cup just as much as she did. "We quickly fell in love and then it obviously became one of our hero products on The Buy Guide. And so our followers fell in love with it, too," Hutchinson said.
But the Quencher increasingly became harder to find in stock and appeared to be at risk of being discontinued, Hutchinson recalled. "We had heard that Stanley was discontinuing the 40-oz Quencher," Hutchinson said. "So we were telling all our followers, 'Hurry, get your hands on any cup that you can find. We've heard that this is going away. Please tell Stanley that you don't want it to go away, that you love the cup so much.'"
Matt Navarro, senior vice president of global commerce at Stanley, told Retail Dive that while there were no plans to discontinue Quencher production in 2019, "the tumbler wasn't prioritized at the time."
An employee who worked at Stanley messaged The Buy Guide and said they agreed that they thought the cup was a great product and brought up The Buy Guide's experience at a meeting with Stanley executives. However, while many brands work with influencers and accounts like The Buy Guide through affiliate marketing, Stanley had not participated in those programs at the time. Instead, Stanley directed the women to place a wholesale order — with a minimum order quantity of 10,000 cups.
---
"Any brand on the planet that isn't marketing to the 25 to 50 year old woman is really missing the mark."
Ashlee LeSueur
Founder of The Buy Guide
---
"It was a huge risk," Cannon said, adding that they had to quickly set up a website, get a warehouse and figure out how to ship the product to consumers. "We ordered those cups and were like, 'We don't know if we're going to sell out of these tomorrow, or if we're going to be trying to get rid of cups for the rest of our lives."
It was the group's first and only wholesale partnership of that kind with a brand. The Buy Guide sold out of its first 5,000 cups in about four days. It sold through the second 5,000 cups in an hour. 
"It blew their minds," Cannon recalled about Stanley's reaction to how quickly The Buy Guide was able to sell through its cups.
This happened around the same time Stanley was ushering in new leadership that started to see value and potential in the Quencher. The new leaders — including Terence Reilly, Stanley's global president for Stanley at PMI Worldwide, Stanley's parent company — "saw the opportunity to prioritize the hydration category as a whole," Navarro said. "When looking into the product pipeline, we bet on the fact that the Quencher use case fit our new strategy of hydration, color revolution and meeting consumer lifestyle."
Stanley executives reached out to The Buy Guide to schedule a time to meet with them and flew them out to Colorado where they were attending the Outdoor Retailer conference. "We just sat down with the executive team and were like, 'You're marketing this cup to the wrong people,'" Hutchinson said.
The Buy Guide wanted to help the brand expand its reach beyond the workmen and outdoorsmen it had typically marketed to in the past.
"We can show them what it would look like if women could market it to women," LeSueur said. "Stanley had been a company only producing occasional-use items. They were making items for people's camping trips or tailgating. We told them that this cup was a daily-use item. It was an everyday, all-day item. And that it needed to look good in people's homes and kitchens, with their outfits, and not just in the great outdoors."
The Buy Guide's following is 97.7% women, with the highest demographic being women aged 35 to 44, according to data The Buy Guide shared with Retail Dive. Almost 100% of its followers are between the ages of 25 and 45.
"Any brand on the planet that isn't marketing to the 25 to 50 year old woman is really missing the mark," LeSueur said. "Even if you are a men's clothing line — no matter what you are — if you are not finding a way to speak to this 25-to-50-year-old female, you're missing the mark because those are the buyers of our economy. They buy for their families, they buy for their husbands, they buy for their businesses."
The partnership with The Buy Guide resulted in "successful outreach to new Stanley fans — and new Quencher fans," Navarro said. It led to word-of-mouth recommendations and heightened demand for the Quencher. "We then focused more of our efforts on this must-have product through our revamped website and via social media."
The Buy Guide also helped Stanley enter into the universe of affiliate marketing as the brand brought the Quencher back in full force.
Navarro said the affiliate marketing channel has opened Stanley up to new audiences and has allowed consumers to connect more directly with the brand. Using influencer marketing also taps into an emotional connection with consumers, according to Namrata Shah, a partner and global head of consumer and beauty at PERLab, the product redesign practice of Kearney.
"Women talking to women and referring creates a lot more trust in the product and the brand versus the typical marketing tactics and strategies that have been used in the past," Shah said.
And social media more broadly has led to consumers themselves posting about their experience with the product, extending the brand's reach even further.
"Frankly, the consumer sort of took over for us in places like TikTok where we have 700 million views of #StanleyTumbler on TikTok," Navarro said. "All of the videos and content on TikTok are user-generated. So it's really the consumer connecting to our brand through social media, and just putting the consumer first."
Stanley's recent success can be credited to the brand's ability and willingness to shift its focus.
"When they got good indicator data, when they heard from The Buy Guide, when they heard the conversations on social media around what women were talking about and why women like this cup, they pivoted immediately and I think that was the biggest unlock for them," Shah said. 
That ultimately led to a renaissance in Stanley's products and carried the brand through the years to cement its relevance with consumers, according to Navarro.
"We are so fortunate to have a 110-year-old brand rooted in American history," Navarro said. "So many people, especially in the U.S. and North America, have an emotional connection to our brand — from their grandfather taking them fishing with Stanley [products] to working on a job site. Just a deep, emotional connection with our brand, which allowed us to then — through innovation and really through our digital marketing expertise — bring the brand to the 21st century and connect with today's consumer."
A case for collecting
It's not just that consumers are buying Stanley's Quencher tumblers now. Some consumers have gone so far as to fill their cabinets with a rainbow of Stanley cups, adding to their collections when a new colorway or limited-edition drop comes out.
TikTok user @aly_zee12 in a video shows off their collection of 18 Stanley Quencher tumblers in various colors and sizes. Similarly in another video, TikTok user @lindseyharbison displayed about a dozen Stanley Quenchers filling their cabinet.
"When we think about collecting, we try to think about collectibles, which tend to be something you wouldn't think about when you're talking about a Stanley Quencher bottle. You might think that applies to dolls or jewelry," Peter Danzig, a researcher, psychotherapist and consultant, told Retail Dive. "And that is true. But anything is collectible that has material culture. What's most important is the reason people collect is because it brings them a sense of joy."
---
"Nobody talks about the joy that people have when they open their cabinets and see the multitude of these water bottles."
Peter Danzig
Researcher, psychotherapist and consultant
---
Danzig said that since the pandemic, research around material culture has shown an uptick in people collecting things.
"What we've seen is as a result of the pandemic, when people were under isolation, they were discovering what small joys they found in their day-to-day and finding joy in the little things," they said.
This corresponds with consumers increasingly leaning into health and wellness trends, including hydration, coming out of the pandemic.
When it comes to collecting, Danzig said, there's a sense of accomplishment. "There's a visualization of completeness. There's something tangible that you can tie it to. … People collect because it gives them a sense of purpose. It gives them the drive. There is something in the hunt and the find that is exciting for people."
People may also purchase multiple Quenchers for different areas of their lives — for their morning coffee, for their workouts, to go with different outfits, one to decorate with stickers.
The appeal with Stanley's Quencher in particular stems not only from the product performing well, but also from how it looks and how it makes customers feel when they use it.
"A brand or product that really will resonate with consumers is when they have the perfect combination of addressing the technical, functional and emotional needs of the consumer," Shah said. "If you miss any one of these needs, it's going to critically impact either the usability, the user experience or the emotional connect."
Shah added that a Stanley tumbler not only has a very good technical foundation with features like an ergonomic handle and the ability to fit securely in a cup holder, but it also comes in colors "that goes to the emotional needs of people like me that think about the cup much more as an accessory and not just a water bottle. I want that optionality to determine what is the one that I want to carry with me today as I go around in my daily chores or I go to my Peloton classes."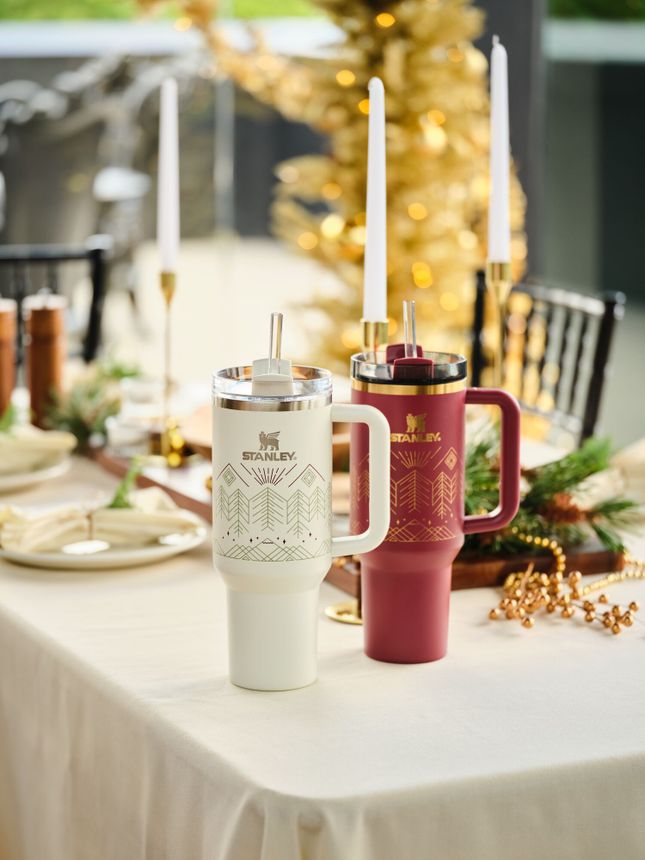 Stanley has released a number of collections in various colors, finishes and patterns, as well as some in collaboration with brands like Pendleton and Target's Hearth and Hand with Magnolia line. To drive even more interest in new releases, the company adopted a tactic around "drops" that's often seen in sneaker culture and used by streetwear brands.
"There is something so thrilling when somebody is waiting," Danzig said. People want to see what the item is going to look like, and once they do, it "brings a rush of adrenaline and if they are able to get it — that's dopamine."
The limited drops generate attention from fans and often cause products to sell out quickly.
"I think there certainly is a promotional strategy around FOMO, fear of missing out, culture and really driving really intense demand for products by offering limited, special-edition drops; partnerships with other really cool, hot, trendy brands; collaborations with celebrities and artists and athletes — has really just helped create the brand status I would say we have today," Navarro said.
Nostalgia also plays a role in why consumers collect certain items or gravitate to select brands, Danzig said, noting that nostalgia does not necessarily mean the product traces back to one's childhood; it can stem from the last couple of years.
"Maybe somebody during the pandemic discovered they really liked these water bottles and they remember first discovering them and purchasing each new one or the new colors, and seeing that rainbow when they open the cabinet still brings them a sense of what brought them joy during a very dark time," Danzig said.
Social media has also helped drive a desire to collect items more recently, Danzig added. "We have seen a huge impact psychologically on the finding of community," they said. "They actually can comment and say, 'Oh my gosh, I have that too. I love the function of this.' or 'I love this color. I love this visibility.' And they follow these other people because there's a sense of community. You're being seen, heard and affirmed.
"At least in Western culture, we're based in consumerism and capitalism. We sell things and make a profit. But nobody talks about the joy that people have when they open their cabinets and see the multitude of these water bottles," Danzig added. "There's a call to action for me with social media where people can get the affirmation where they may not be getting that from your friends or colleagues or family members that people might just be saying, 'That's just a water bottle. I don't get why you're collecting that.' When you're navigating online interactions, they're building a sense of community and affirmation that they're not always able to get, or they're affirming what they know inside, but they didn't know other people liked it as well."
Lasting power
The Quencher's popularity has skyrocketed in recent years.
This year, Stanley has seen a 275% year-over-year increase in Quencher sales and has experienced a 215% increase in its best-selling category, hydration, according to Navarro. "If we look back over the last six months, we have firmly planted ourselves as the No. 1 drinkware brand in North America," Navarro added.
In the past few years, the brand has done a good job connecting with both existing and potential customers; committing to their core design principles of form, function and design; and having the ability to act on changing trends, according to Shah.
"They have a phenomenal pulse on the conversations on social media — what are people talking about?" Shah said. "It's the connectivity. It's not just a product that they're putting in the market. It's about listening to the consumers, what really matters to them and actually working on that and bringing that offering to the market."
The brand, and the Quencher specifically, also appear to be driving trends across the industry — and increasing competition.
Hydro Flask's parent company, Helen of Troy, said earlier this year that it is making a shift away from water bottles, where it says it is a category leader, to tumblers, where it has a much smaller presence. 
"The market is getting crowded, there are a lot of offerings. But what [Stanley has] done is they've made very quick decisions and pivoted — listening to the consumers, when they had women talking online on social media, they quickly launched a line targeting them, listening to their needs," Shah said.
Over the years, a number of brands have surfaced as the "hot" water bottle of the moment: Nalgene, CamelBak, S'well and even Hydro Flask. Can Stanley cement its place as a leader in the space?
To Shah, Stanley has staying power, but "they cannot rest on their laurels. What has brought them here is not going to carry them for the next five, 10 years," Shah said. "They need to get smart about managing the increasing complexity they are taking on as they expand their portfolio because they're trying to get to very different consumer segments. If you don't manage the complexity well, it could hurt you."
The company has also been purposeful in its distribution, selecting retail partners it knows will resonate with consumers and that will provide a premium and consistent customer experience for its products, according to Navarro. Stanley continues to be "consumer-first," ensuring that customer demand, feedback and insights are driving the products that the brand brings to market.
"We can't just keep making different colors of the same product," Navarro said. "We need to bring products that are relevant and innovative in the space."