Editor's Note: This is part of a package examining the first half of 2021. Dive into the key trends and stats from a transformative six months.
The liminal space consumers continue to operate in — back to normal in some respects, anything but in others — hasn't made marketing any easier so far this year.
Campaigns that thread the needle in addressing today's anxieties or deploy a memorable application of digital tech look all the more impressive in a world where attentions are divided in a million different ways, but not much feels like it has real staying power. On the other side of the coin, misfires can stand out more during a holding period, highlighting the need for finesse.
Volkswagen's rebrand to "Voltswagen" — an April Fools' stunt meant to highlight a bigger commitment to electric vehicles — left a sour taste among many in the media and stands as the type of whiff the automaker is likely hoping to leave in the rearview. On top of walking a tricky messaging tightrope, marketers are also contending with several historic developments.
A widespread reckoning with race produced results like Quaker's Aunt Jemima line rebranding to Pearl Milling Co. in February. It was a move toward progress, mirrored by many others in the industry, but still ginned up plenty of controversy. Even amid this wider whorl of disruption, data remains the big word on CMOs' minds as they anticipate — or dread — Google's deprecation of the third-party cookie, now delayed to 2023.
Each year, Marketing Dive assembles the campaigns that were emblematic of what shaped the industry in H1. In 2021, standout efforts have covered a range of tactics and brand values, but all speak to how companies are trying to stay nimble in an environment defined by uncertainties, whether by offering consumers post-pandemic optimism or a lighthearted take on crypto trends. These executions model how brands can continue to resonate with consumers as a recovery takes shape and people hope for an end to the notorious pandemic blur.
Dos Equis embraces messy post-pandemic optimism
Plenty of marketers have signaled eagerness for a return to normal in recent months, but few have linked the concept as strongly to their core brand as Heineken's Dos Equis. Promoting a modernized look and positioning in April, the brewer rolled out "A Dos of XX" platform centered on forward-looking optimism. It includes a "Get a Dos" tagline that plays on the desire to get back to in-person celebrations and also the need for people to get a dose of COVID-19 vaccines to realize those goals.
The effort, created with agency of record (AOR) Sid Lee, features ads that are bubbly while acknowledging the messy holdovers of pandemic life, like a woman forgetting to take off her bedroom slippers before stepping out of the house. Creative also spotlights a refreshed packaging design that connects Dos Equis closer to its Mexican roots and new product offerings.
"Timing is everything. The ones that got out there first were the winners," Tiffany Rolfe, chief creative officer at R/GA, said of the campaign over email. "And it's about context and connection to the brand. Does the brand have a real role as we enter back into the world, and how can it uniquely help?"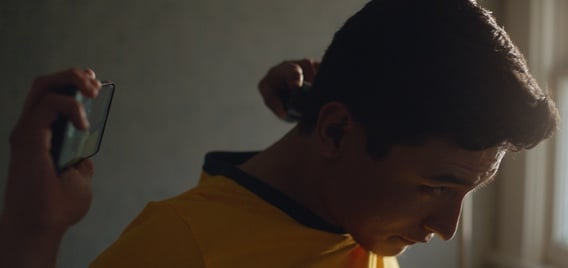 Pepsi deepens DTC playbook with virtual restaurant
Pepsi entered the burgeoning virtual restaurant space in May with the launch of Pep's Place, which puts its beverage brands first. Available on a dedicated website and through third-party platforms like DoorDash and Grubhub, the site asks users to pick their preferred Pepsi drink and then recommends food pairings for products like Pepsi Real Sugar and Pepsi Mango.
"To help change [the] perception about their beverages, Pepsi influenced customers to lead with the soft drink of their choice, rather than what most do — which pick the side orders first to help decide their meal," Amy Carvajal, chief creative officer at Code and Theory, said over email. "Not only did the campaign change how people order food in this pandemic world, but it also transformed the way people look at and think about soft drinks themselves."
The play squared with Pepsi's growing bets on direct-to-consumer channels fortified by the pandemic while underpinning more aggressive moves into the restaurant category. As part of the same "Better with Pepsi" platform later in May, it introduced a campaign that claimed its beverages went better with burgers in a shot across Coke's bow.
McDonald's taps into stan culture
Stan culture — the legions of online fans that amass around particular artists and celebrities — can be a minefield to navigate, but McDonald's successfully tapped into the ardent following of K-pop group BTS with a global campaign that featured limited-run merchandise, in-app content and TV ads. The fast food giant generated massive hype for the collaboration with an April teaser and in May introduced a special order inspired by the band's preferred meal.
While McDonald's has previously boosted sales through menu collaborations, the BTS blitz went deeper than usual. The brand flipped its social media assets to BTS' signature purple hue and ran content on its app to extend engagement with super fans — a smart maneuver as pandemic-driven mobile ordering habits stick.
"They found ways to drive audience anticipation through limited-edition merchandise and created an experience that felt similar to a world tour, where fans would wait anxiously for the meal to drop at their local McDonald's," Carvajal said.
More traditional media executions also managed to capture the attention of the so-called BTS Army: A spot promoting the partnership has accumulated more than 3.8 million hits on YouTube.
Nerf hires TikTok enthusiast
TikTok's popularity continued to skyrocket in the past six months while an influx of brands has made standing out on the platform harder without paying top dollar. Making its TikTok debut in the spring, Hasbro's Nerf line put out the call for a temporary executive position to help it learn the ropes and make an impression with the app's choosy young audience.
Rather than tapping external TikTok consultants — a growing specialty field — the marketer of toy blasters searched for an existing enthusiast to fill its Chief TikTok Officer position, which pays $10,000 per month and is tasked with brainstorming marketing strategy. Sophie Lightning, or @Nerfers101, eventually secured the spot after an intensive review process thanks to her enthusiastic Nerf content and audience of more than 1.8 million. Working with @Nerfers101 showed that Nerf "got" TikTok — especially the essential qualities of its creator culture — much better than more established brands on the app.
Nerf continues to deploy TikTok marketing that meets fans where they are, including through a tournament centered on user-generated content that runs through July 23.
Domino's ties The Noid's return to NFT craze
Bringing back a brand mascot is always a gamble. How do you imbue freshness into a concept that's literally played out? Earlier this year, Domino's and AOR WorkInProgress resurrected The Noid, a notorious character dedicated to thwarting the chain's speedy deliveries. The red-eared villain appeared in a number of forward-thinking activations that highlight how marketers are staying nimble with emergent digital trends in 2021.
Initial ads featuring the Noid promoted an autonomous delivery partnership with robotics company Nuro. Then, Domino's converted the Noid's "Failed Tools," including a Pizza Crusher, Pizza Slayzer and giant Noid Balloon Blockade, into nonfungible tokens (NFTs) sold via a 14-day auction on Rarible.
Plenty of other marketers have glommed onto NFTs — unduplicable digital assets built on blockchain technology — as the format shakes up the art world. But Domino's is one of the rare brands with the bona fides to dip into the space, as it's long been as closely associated with tech as with pizza. And The Noid, despite its checkered history, is the type of asset that still carries its own brand equity in nostalgia-hungry consumers' brains.
"[We've] already moved past the novelty of the NFT trend," said R/GA's Rolfe. "It's now about thinking how the technology behind NFTs can be utilized in a way to create a better experience for customers, or new products and services. They go from marketing stunt, to evergreen innovation."
Budweiser flexes marketing muscle to encourage vaccinations
As the first COVID-19 vaccines were being administered to frontline healthcare workers, Budweiser in January announced it was skipping the Super Bowl to reallocate its budget to a digital film titled "Bigger Picture." The video highlights American resilience and honors workers who were the first to receive the vaccine.
When vaccines became available to larger portions of the population months later, the brewer doubled down on its efforts and offered $5 debit cards that could be spent on Budweiser to the first 10,000 people who showed vaccination cards. And ahead of the Fourth of July, Budweiser recreated a scene from "Independence Day" to further encourage vaccination progress.
While advertisers have been channeling their marketing to raise COVID-related awareness for almost a year and a half, Budweiser's vaccination campaigns refocused these efforts and proved to consumers the brand is committed to helping the country recover.
"[Budweiser] is smart to emphasize the ultimate benefit of inoculation," said Ed Rice, executive director of Affinity Creative Group. "The message is less dictatorial and preachy [and] more celebratory and social-occasion focused."
Dove boosts confidence with body positivity campaigns
Marketing around social issues has always held a risk-reward tradeoff for brands. Correctly done, a brand can win trust from consumers while creating a dialogue for future engagement opportunities. If done poorly, a brand can easily fall out of favor and even be "canceled" if the effort is particularly tone-deaf.
Unilever's Dove is an example of a brand succeeding in this endeavor. Addressing the negative relationship between social media and body image, the brand launched a campaign called "Reverse Selfie" that urged young viewers to have "the selfie talk" with a loved one to learn the harmful effects of sharing pictures on digital platforms. Soon after, Dove made another effort toward promoting body positivity through a confidence-building TikTok activation with the hashtag #NoDigitalDistortion.
Dove's campaigns, part of its larger Self Esteem Project, demonstrated that the brand is able to turn serious issues into effective marketing opportunities. As reckonings with social inequalities around race, gender and other forms of identity continue to shape society, marketers must learn that embracing and integrating change — rather than shying away from it — is not only possible, but can also pay off in spades.
Wendy's brings back experiential with 'Rick and Morty'
As the pandemic shifted marketing to digital pathways, experiential efforts dwindled, drying up a particularly effective channel for brands to engage consumers. But as people again started to leave their homes in H1, Wendy's revived its experiential strategy through a multichannel extension of its work with "Rick and Morty" ahead of the hit Adult Swim show's season five premiere.
Headlined by a pop-up diner in Los Angeles, the campaign converted a Wendy's location into "Morty's" in celebration of the titular character and featured a custom LED drive-thru, themed menu and limited-edition pickle-flavored Pickle Rick Frosty.
"[Wendy's] perfectly tied a marketing strategy to a cultural moment in an authentic and natural way," said Jason Berk, head of social and digital at Sid Lee. "A huge group of millennials and Gen Zers are tremendously loyal and enthusiastic about 'Rick and Morty' and that same group was probably even more excited about getting back to normal and doing pre-pandemic activities like going to a fast food restaurant."
The tie-up was a strong first effort by the chain to welcome back consumers. The drive-thru foundation and digital complements of Wendy's pop-up also maintained a streamlined structure that experts suggest could inform experiential marketing going forward.
Mtn Dew and Coke get innovative when production is limited
With ad production restricted over the past year and a half, marketers needed to think on their feet to engage consumers in digital yet innovative ways. Two brands that successfully merged these qualities in their campaigns are Mtn Dew and Coke.
Through CGI and face-mapping technology, Mtn Dew created a deepfake of the late Bob Ross for a "lost episode" of the instructional painting show, "The Joy of Painting." The episode showed Ross as he was in his show's run from 1982-1994 and featured a Mtn Dew bottle on the soft-spoken painter's canvas.
Coke employed similar video tech to insert digital images of Coca-Cola flavors into footage from previous NCAA Men's College Basketball tournaments. Titled the "Unbelievable Double Take," the campaign doctored some of the tournament's most memorable moments to tap into interest around March Madness.
Capitalizing on innovations in digital technology while incorporating nostalgic themes, both Mtn Dew and Coke testify to the creativity still achievable by marketers despite production limitations.
"The most innovative component of each of these campaigns lies in their simplicity..." said Mark Viden, senior vice president of brand for CommonSpirit Health. "These brands simply leveraged innovation to bring enough newness to the table to resonate across generations."