Dive Brief:
Pepsi launched a sweepstakes that will deliver "Tailgate in a Box" kits to homebound football fans who are looking to keep the pregame experience alive despite restrictions on gatherings related to the coronavirus pandemic, according to news shared with Marketing Dive.
Valued at nearly $5,000, the package includes a 16-square-foot tailgating box that comes equipped with an outdoor projector, custom cornhole sets and a variety of Pepsi products. Consumers can enter for a chance to win one of 20 kits through a microsite the soft drink marketer set up for its latest professional football marketing platform, "Made for Football Watching," which debuted last week.
Pepsi also paved over 1,500 square feet of front yard of a couple of New York Jets fans from New Jersey. The parking lot-style refurbishment, highlighted in social videos promoted by Pepsi, comes with stadium lighting, a parking booth, a grill, an inflatable Jet, a painted end zone and more. Hall of Famer and former Jets running back Curtis Martin taped a personal message for the couple as part of the effort.
Dive Insight:
With the latest leg of its "Made for Football Watching" campaign, Pepsi is emphasizing what it calls "homegating," where the brand aims to help diehard fans keep their tailgating traditions going even as large gatherings are prohibited and many stadiums may not allow in-person attendance for the upcoming season.
Pepsi, a longtime NFL partner, has adjusted its sports marketing strategy ahead of season kickoff on Sept. 10 due to disruptions stemming from the pandemic. With the continued spread of the virus around the U.S., typical sponsorship occasions and in-stadium activations are on hold, which has shifted the soft drink marketer's focus to the home. A recent batch of ads and social media activations attached to "Made for Football Watching" juxtapose how passionate fans can resemble elite athletes in their reverent game day routines.
Coming from the refreshment category, Pepsi has often emphasized the tailgating experience, so it's no surprise the marketer is looking to preserve the practice, albeit in a setting tweaked to meet the safety demands of the pandemic. In 2018, Pepsi ran a multi-city tailgate tour that featured live music performances, outdoor games and other activities that the brand is now trying to replicate for homebound consumers.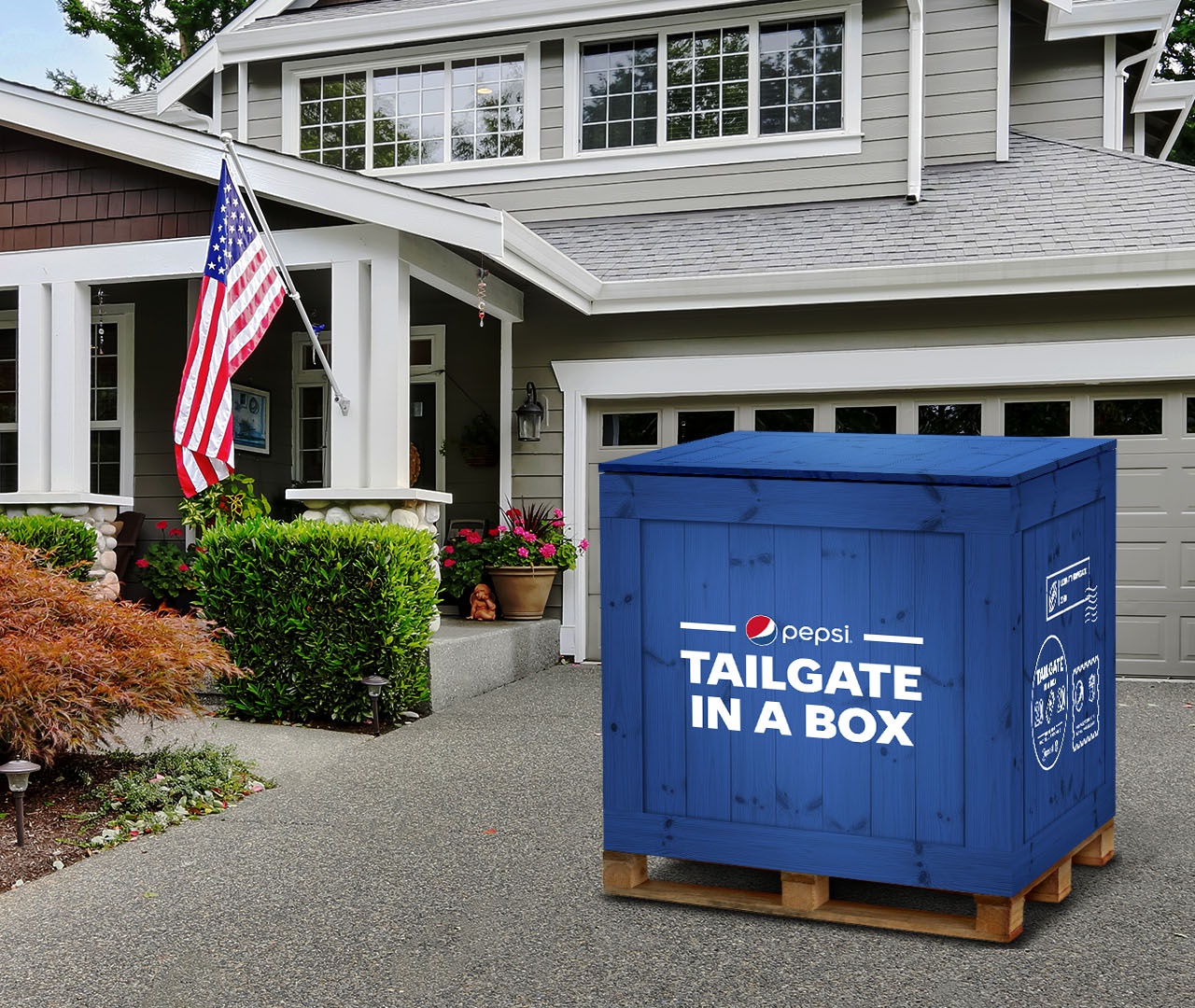 Though the health crisis has made things less certain for marketers overall, it has played into areas of business where Pepsi is investing more heavily, including direct-to-consumer strategies embodied in concepts like the "Tailgate in a Box."
"While everybody can talk about how COVID is creating all of these constraints and all these limitations, I also look at the other side and say, man, what an opportunity," Todd Kaplan, Pepsi vice president of marketing, said in a previous interview. "Okay, there's no fans at the stadium — how do you address that void?"