Brief:
Twitter removed a privacy feature that let users of the social network curb the sharing of some private information with advertisers. Before the change, users had a setting to prevent Twitter from providing non-public personal information such as a smartphone's device identifier and ad engagement data, The Verge reported.
Twitter on Wednesday began telling users of the changes to its policy in pop-up notifications that appeared upon opening its app. "[Y]our ability to control mobile app advertising measurements has been removed, but you can control whether to share some non-public data to improve Twitter's marketing activities on other sites and apps," the notices read, adding that the changes help Twitter to continue operating as a free service. The full policy is also detailed on Twitter's website.
The changes don't apply to Twitter users in the European Union, the European Free Trade Association and the United Kingdom. Residents of those regions must opt in to let Twitter share more information with advertisers, per The Verge.
Insight:
Twitter's changes to its privacy policy should be positive for mobile marketers if they lead to improved datasets for audience targeting on the embattled platform. The tweaks arrive as Twitter is weathering serious advertising disruptions brought on by the coronavirus pandemic and subsequent spending freezes. As noted in The Verge, the platform also took a heavy revenue hit last year due to an ad-tech bug that halted its ability to properly share and apply user data.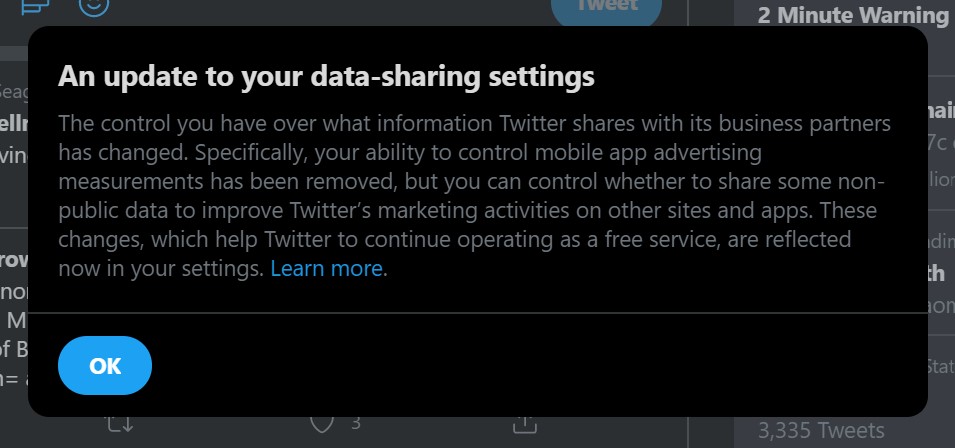 Twitter is among the platforms that are coping with drastic cuts in ad spending as marketers cancel or suspend campaigns during the pandemic. Digital ad spending dropped 33% in March amid the pullback, according to a recent survey of media buyers, planners and brands by the Interactive Advertising Bureau. Twitter last month warned investors about the negative effects, withdrawing its Q1 revenue outlook despite reporting a surge in user activity. 
Twitter had 164 million monetizable daily active users, a company-specific metric, worldwide by late March, and any advances in its ad targeting could improve the efficiency of media spending on the platform. Twitter's median cost-per-click was 28 cents in Q4, a 49% decline from a year earlier, while its median CPM was $7.31, up 18% for the comparable periods, according to the AdStage Benchmark Report.
The revised data-sharing policies might still alarm some users outside the EU, where the General Data Protection Regulation is one of the strictest privacy laws in the world. However, Twitter is perhaps the most public social network, with default settings that urge people to share content with the whole world.
Only 13% of Twitter users in the U.S. set their accounts to private, locking out other users who aren't given permission to see a person's feed, per a study by Pew Research Center. That willingness to share posts with the public is a key characteristic of Twitter's audience that could make it less wary of the adjusted privacy policy.