Lowe's earlier this year renewed a partnership with the NFL that originated in 2019. In addition to continuing as the league's official home improvement partner, the marketer's multi-year deal makes it an official community improvement partner, as well. Both titles play into the home improvement retailer's latest campaign, which debuts today (Sept. 7), hours before the NFL season kicks off with a game between the Detroit Lions and the defending Super Bowl champion, the Kansas City Chiefs.
The campaign includes 15- and 30-second TV commercials, in-store signage, digital and radio advertising, in-store audio and social media support. Plus, consumers in select markets can pick up a limited-edition DIY Wrist Coach accessory that substitutes home improvement ideas where a quarterback keeps a portable list of plays.
Central to the campaign is a new spot created by Deutsch LA that features three NFL players — Christian McCaffrey, Travis Kelce and Dak Prescott — that are part of the recently revamped roster for Lowe's Home Team, a community-focused effort that launched in 2020. In the ad, Lowe's employees help the players as McCaffrey works to become the "MVP of sinks," Prescott prepares to paint a room in "Dallas Cowboy navy" and Kelce runs some drills — with an actual drill. 
The humorous campaign sees Lowe's working to maximize its partnership with the league and its star players, and caps off a year of change for the company. Lowe's in January in-housed operations and sales for its retail media network, just months after a broader September 2022 reorganization that saw chief brand and marketing officer Marisa Thalberg exit the company, with Lowe's veteran Jen Wilson taking over as senior vice president of enterprise brand and marketing.
In an interview with Marketing Dive, Wilson shared the thinking behind the NFL partnership and campaign, opened up about the company's retail media plans and explained how the marketing reorganization is paying off for the company.
The following interview has been edited for clarity and brevity.
MARKETING DIVE: What are the forces driving Lowe's renewed partnership with the NFL?
JEN WILSON: There are a few important things that we thought about. First was how important the NFL and the live audience and reach was to our business and to our stakeholders, both our DIYers and our pros. The fact that we're able to reach such a wide and live audience so directly has been imperative for us. We see those numbers not only growing and accelerating, specifically for the DIY market, but also for pros as well.
We really leverage this relationship to reach that wide audience, but also the fact that we have community in common in a big way between the NFL and Lowe's. We're proud to be the official community improvement partner with the NFL, which is new this year. That is a shared commonality around wanting to rebuild communities across the country. It just made sense in terms of who we are trying to reach. 
How did that partnership influence this new campaign?
WILSON: When it comes to how we are going to maximize this partnership. One of the things we're most excited about, as a part of how we stand this partnership up, is through what we call the Lowe's Home Team. We're excited not only to refresh the roster, but then to really endemically bring these players to life. 
When we think about the role of the Home Team, it's two parts. First, we see the "home team" of Lowe's as being a team of experts and partners who have your back — we're here. That's the foundation of our "Lowe's Knows" campaign that's live today: You've got someone, an ally in your corner, who's here to offer you the expertise. 
In our research was this unique insight, as we target millennial homeowners specifically, that they view players as one of them, and even though they're pros on the field, the reality is they're homeowners at home. They are sometimes picking up the drill for the first time or taking on a paint project for the first time, and there was something really relatable, especially for millennial homeowners who look up to these professional athletes and say, "They don't know how to do it either. Well, even if they don't know how to do it, that gives me confidence. We're on the same playing field, and Lowe's can be here to support me through that, just as they're supporting the pros through that."
That's really the picture that we wanted to paint as we thought about bringing this Home Team to life. The cherry on top for us was introducing this DIY wrist coach. We thought it was a clever way to bring product plays to life. You'll see that in select markets that we'll offer through stores, and then online.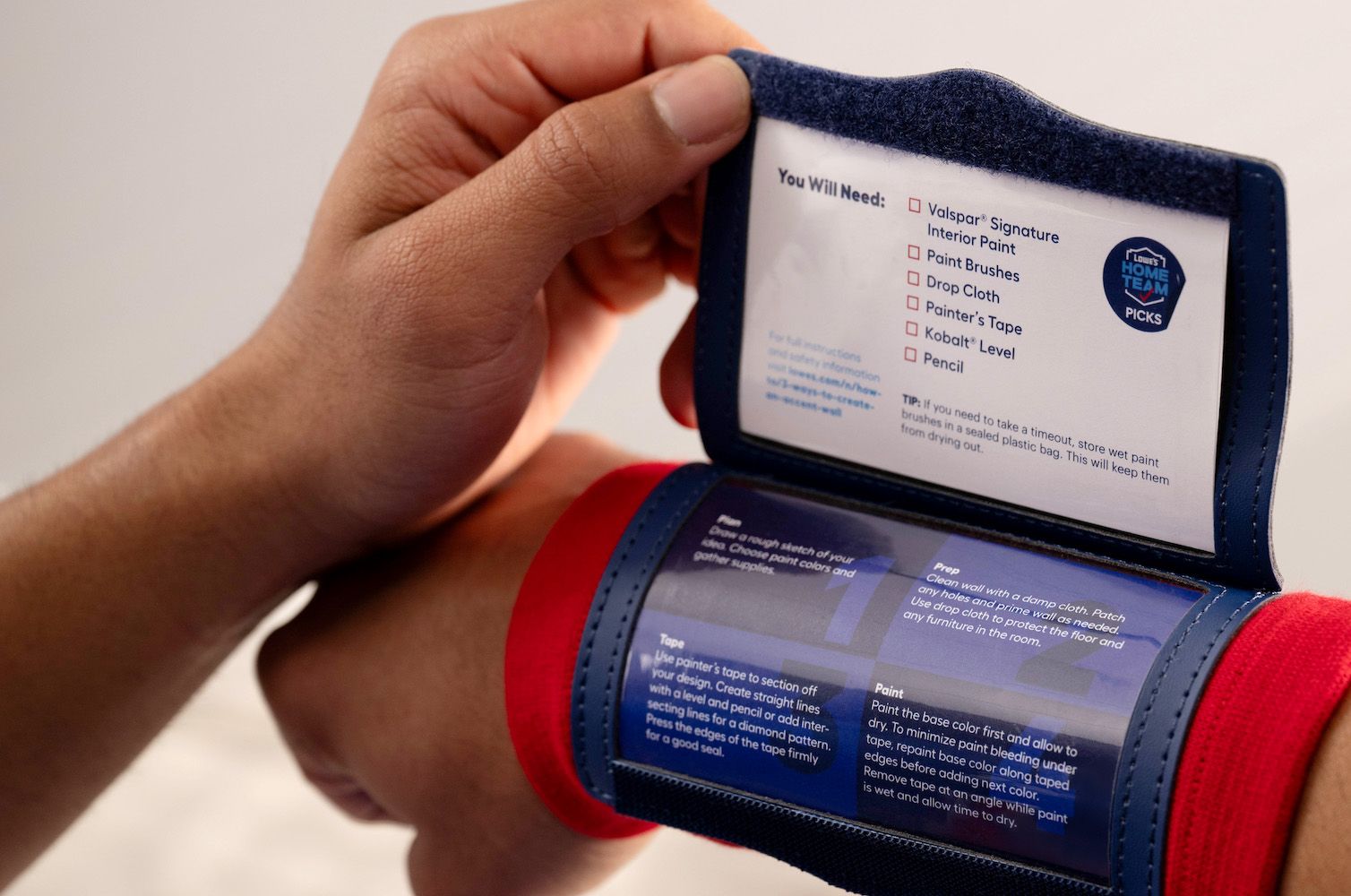 How does Lowe's approach finding the right members of the Home Team roster?
WILSON: First and foremost is, they by-and-large align to our value systems. That's a big part of why we are renewing with the NFL to begin with, is that do they have a passion for helping to support the communities in which they live. That's a really important piece to us, because our brand is dedicated to being here for the communities that we serve. 
The second one is just this general idea of relatability. It doesn't have to necessarily be likability — it's the ability to relate to them, whether they're on the field or off the field. The fact that you can see them as human was really important to us. We got a lot of great feedback on these players, in particular from a research group that we entertained. 
The last piece is that there's this sort of "it factor" as it relates to different individuals with what they bring to the table. With Christian McCaffrey, who, no matter whether he's in Charlotte, or if he's in San Francisco, he just has an element of respect and profound connection to the military that is really "it" for our brand. The fact that he cares so deeply about the military aligns to how deeply we care. We looked for what that kind of "it" factor was amongst all of those players. Some of it also is just what team do they play for me? [With Dak Prescott] everybody likes — well, not everybody, but a lot of people like — the Dallas Cowboys. [laughs]
How is the in-housing of One Roof Media Network playing out for the brand's retail media efforts?
WILSON: We talked about in our last earnings call: We're on track to exceed expectations for our retail media network this year. We've got great engagement from some of our absolute top vendors, all the way down to small folks who are participating for the first time. In part, that's because these advertisers have the ability to reach first-party data that they've not necessarily had access to across our brand. 
As we think about next steps, opening up new channel opportunities for our vendor partners who are involved is on the radar. In-store audio is an example, opening up that as a revenue driver, but also as an opportunity for these vendors to be able to hear their advertisements when folks are shopping their store.
How has putting marketing under merchandising as part of last year's reorganization affected marketing priorities?
WILSON: I think integrating within merchandising and within the business has been a huge opportunity for this organization. To see the power of what comes out of the work as a result of that, and fully aligning to how we drive the business forward has already begun to pay off in dividends. 
As you think about the many priorities in this macroenvironment, one of the biggest focus areas that remains for us and will continue to remain as we look around the corner is anchoring in on value. The way that we really define value is value beyond price. We think about things like this incredible campaign that we pulled together that really depicts our red vest associates at the core of the value proposition that we offer the consumer. It's not always just a deal, or it's not always just selling some new brand. It's also that we have expertise and empathetic associates in our stores who can motivate you to take on the next project. 
That's our job as brand advocates: to bring that out of the work. Hopefully, that's what you're seeing [in this campaign], even though there's some humor in it, you're also unlocking this idea of "Lowe's Knows" and the expertise in partnership.