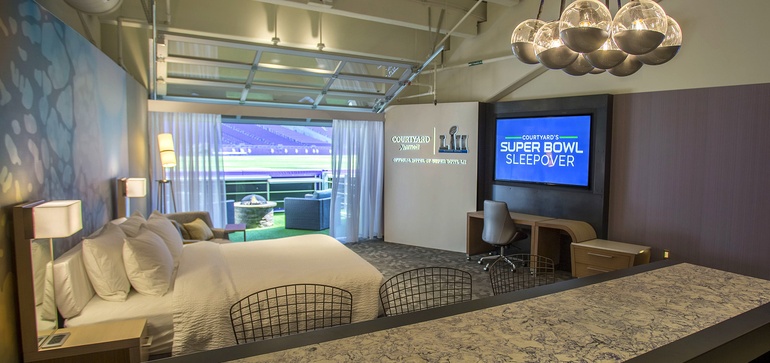 Brief
Courtyard by Marriott brings Super Bowl VR dome to NYC
Dive Brief:
Marriott International is rolling out a number of initiatives to offer National Football League fans unique experiences as the season kicks off, according to a press release by the company. One of these experiences by the chain's Courtyard brand is a Super Bowl Sleepover Contest on social media, where one fan will win a night to sleep next to the Super Bowl LII field in a field-level suite that's been transformed into a hotel room.
Courtyard by Marriott will also roll out a 4-D virtual reality (VR) dome in New York's Flatiron District on Sept. 28, where people can feel as if they're standing on the field on Super Bowl Sunday.
The hotel's rewards members can also use loyalty points to bid on football-related prizes, which include tickets, lunch with players, tours of NFL studios, Super Bowl LII tickets or weekly phone calls with ESPN's Adam Schefter for fantasy league tips and behind-the-scenes information throughout the regular season, per the release.
Dive Insight:
The NFL is always a ripe target for promotional tie-ins for its brand sponsors given its wide reach and loyal fans. For a hospitality company, there's also the ability to provide trips for fans wanting to travel to watch their favorite team. Marriott's lineup of myriad NFL promotions will likely give the hotelier a major brand awareness boost this football season.
But, what might be most interesting is the one-day VR experience in New York. Brands have been working to understand how to tap the emerging technology as a content medium and bring value to its consumers and weave some sort of brand messaging into it. Recently, spirits giant Diageo rolled out more than one public service experience to let people virtually feel what it's like to drive drunk or binge drink, and Behr Paint set up a VR-equipped out-of-home activation in NYC's Grand Central Terminal to promote its first "color of the year" and interact with consumers in a more direct approach.
Marriott's NFL activation has grander plans in how it's experienced as it will be filling an entire dome with VR content, allowing multiple people to experience the event together rather than separately wearing headsets. This use of VR illustrates that marketers are just scratching the surface on how the tech can be used in the marketing mix.